Train with a World Champion!
A Five Day Camp with 1971 Champion Stellan Bengtsson
Learn from the same coach that has helped Waldner and Persson.
Click here to learn more about Stellan's achievements as a player and coach.

Assisted by 10-time US National Champion, Angelita Rosal Bengtsson.

This camp has simultaneous upper (1600-2200) and lower (1100-1600) divisions.

Improve your technique.

xxxxLearn new strategies, get advice on your needs.

xxxxxxxxPracitce with partners just as dedicated as you.

Play better and have more fun!

Daily training schedule is 3 hours each morning and 3 hours each afternoon, with a 2 1/2 hour lunch break. The playing facility is available at all other hours at no extra charge. Affordable hotels area available nearby.


Where:
Willamette Table Tennis Club
1960 Oak St. SE in Salem, Oregon
When:
Two sessions are available and you can attend
either one or both.
Session #1: Friday August 4 – Tuesday August 8, 2017
Session #2: Friday August 11 – Tuesday August 15, 2017
Fee:
$500 per session
Application:
Limited to first 14 applicants in each session
Open:
Each Session will operate with two divisions:
Upper Division for those rated 1600-2200.
Lower Division for those rated 1100-1600.
Information:
Contact Ben at 503-851-2941 (cell) or at
ben@bcwebhost.net
Home Page:
www.wtabletennis.org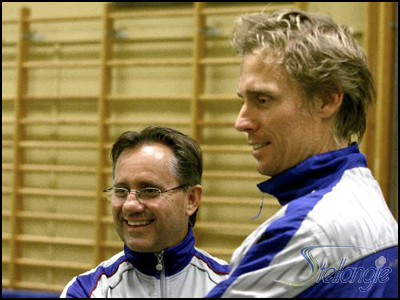 Stellan with 1991 World Champion Jorgen Persson.
Special discount for those over 1900!
First time participants only: rated over 1900, take off $50
from your fee. Total price is only $450.