July 12-13, 2008
The State Games of Oregon is a series of competitions for different sports, including table tennis. The table tennis tournament is traditionally held in Portland each year. This year, Salem had the honor of hosting this popular tournament.
To learn more about the State Games organization go to their website at www.stategamesoforegon.org. Questions about the table tennis tournament are best directed to the director, Tim Titrud at sixleaves@aol.com
Salem had several local medal winners. Doug Clark, who is also an office of the Willamette Table Tennis Club, placed 2nd in the Age 65+ category. Nancy Reynolds finished second in the Women's Open division. Stanley Zhang won the Under 1400 division. Chris Van Hees (a.k.a. Chris Solomon) won the Open division, the Age 20-49 Division, and the Wild Card Doubles (with Darrel Lund). Matthew Barns placed 2nd in the Age 50-64 Division and 3rd in the Under 1700 Division. Ben Bednarz placed 3rd in the Age 50-64 Division and 3rd in the Wild Card Doubles (with Lee Werthamer). Congratulations everyone!
Here are the overall results:
Under 400
1st JD Pineda
2nd Michael Groom
3rd Terry Farley
Under 700
1st John Gardiner
2nd Ethan Liu
3rd JD Pineda
Under 1000
1st Wade Coatney
2nd Darrel Lund
3rd John Gardiner
U 1400
1st Stanley Zhang
2nd Valerie Chia
3rd Lee Werthamer
Under 1700
1st Dave Edwards
2nd Jim Herman
3rd Matthew Barnes
Under 2000
1st Kern Shim
2nd Kal Man
3rd Weida Qian
Open
1st Chris Van Hees
2nd Weida Qian
3rd Long Shiue
Women's Singles
1st Valerie Chia
2nd Nancy Reynolds
Boys 10 and under
1st Ethan Liu
Boys 14-19
1st Jesse Peng
2nd Michael Groom
20-49
1st Chris Van Hees
2nd David Edwards
3rd Tim Titrud
50-64
1st Peter Wong
2nd Matthew Barnes
3rd Ben Bednarz
65+
1st Harry Ehrmantraut
2nd Doug Clark
Wild Card Doubles
1st Chris Van Hees and Darrel Lund
2nd Dave Edwards and Hong Jo Ahn
3rd Ben Bednarz and Lee Werthamer
Here are some pictures submitted by the tournament director, Tim Titrud.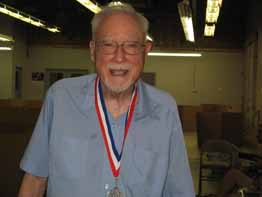 Harry Ehrmantraut Over Age 65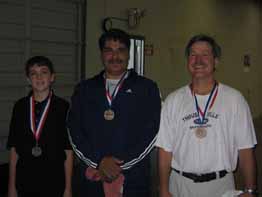 1st JD Pineda 2nd Michael Groom 3rd Terry Farley Under 400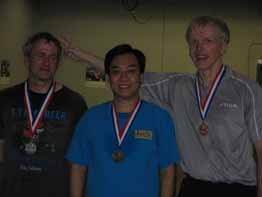 1st Peter Wong 2nd Matthew Barnes 3rd Ben Bednarz Age 50-64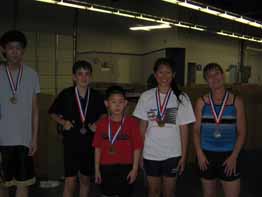 1st Valerie Chia 2nd Nancy Reynolds Womens 1st Jess Peng 2nd Michael Groom Boys Age 14-19 1st Ethan Liu Boys Under 10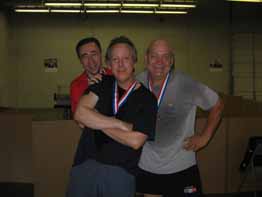 Chris Van Hees 1st Dave Edwards 2nd Tim Titrud 3rd Age 20-49