July 8-9, 2006
The State Games of Oregon is a series of competitions for different sports, including table tennis. The table tennis tournament is traditionally held in Portland each year. This year, Salem had the honor of hosting this popular tournament.
To learn more about the State Games organization go to their website at www.stategamesoforegon.org. Questions about the table tennis tournament are best directed to the director, Tim Titrud at sixleaves@aol.com
Salem had great success at the tournament this year with five medal winners.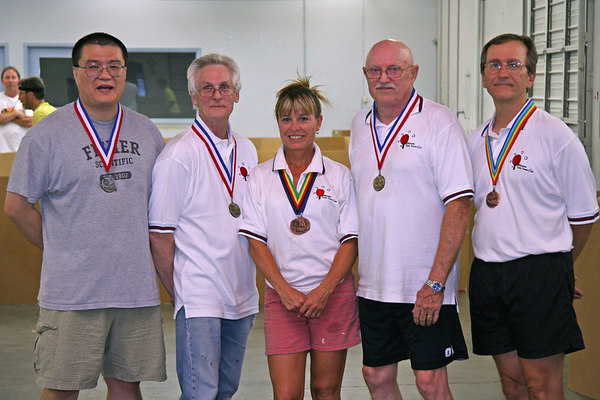 From left to right are Yan Huang (2nd Under 1700), Doug Clark (1st in Under 700 and 2nd in Under 1000), Nancy Reynolds (3rd in Under 400), Jay Hoffman, and Greg Pramuk (3rd Under 1400). Not pictured is Fran Liu (1st Under 1400 and 3rd Doubles).
Here are the overall results:
wild card doubles
1st Vu Le and David Edwards
2nd Peter Wong and Mary Dang
3rd Harry Ehrmantraut and Frank Liu
under 400
1st Mary Dang
2nd Cheryl Lund
3rd Nancy Reynolds
under 700
1st Doug Clark
2nd Nagani Reddy
3rd Cheryl Lund
under 1000
1st Darrel Lund
2nd Doug Clark
3rd Will Potter
under 1400
1st Frank Liu
2nd David Edwards
3rd Greg Pramuk
under 1700
1st John Zhongkai
2nd Yan Huang
3rd Jim Herman
3rd Foung Ly
under 2000
1st Uli Stingl
2nd John Zhongkai
3rd Kern Shim
3rd Jim Scott
open event
1st Tina Hung Yu Chen
2nd Roger Castle
3rd Peter Wong
3rd Gary Ruderman